WHY JOIN H(B)SC?

5 Great Reasons to Join:
1. A Friendly Club
H(B)SC is renowned as a friendly club. Prospective members comment on how welcome they and their families have been made on visiting the club and how this continues when they become members. Most of our membership is through recommendation from existing members. There is always someone to ask for advice and to chat about any aspect of sailing or just to socialise. If you are thinking of sailing, but not yet committed? Come along for a trial session or to one of our open days or just come to the club to chat with members at the club house over a pint, to get feel of the club - we sail most weekends during the Summer and members have access to the Club 7 days a week. You will be amazed at how pleasurable, exciting and relaxing it is to be a member.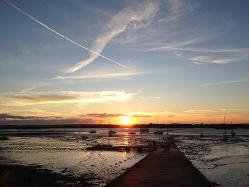 2. What a Location
Our location on Lawling Creek is ideally situated within easy reach of the major towns of Essex but in a beautiful quiet backwater whilst providing easy access to the wide open waters of the Blackwater, its islands and for the more adventurous, to the North Sea and the continent.
3. Superb sailing, windsurfing, kayaking and paddle boarding
Our beautiful location and friendly membership provide a unique sailing experience for racing, cruising or social sailing whether you have a dinghy or cruiser. The creek offers a beautiful, safe environment to take those first steps into windsurfing or for blasting across the bay if more experienced. The creek offers many little inlets to explore by kayak or paddle board or, for the more adventurous, a trip out of the creek and around Osea Island.
4. Vibrant Social!
We have a vibrant social programme throughout the year including our fabled Regatta Week in August with fun and sailing action for all the family. There are, party nights suppers and BBQs. The well stocked bar with local Dengie real ales is available for that quiet pint overlooking the beautiful Blackwater or after a hectic sail. The Galley beckons you with scrumptious home made hot food and drinks. For our family members, with younger ones and older children, there is plenty to do in a friendly 'feel at home' environment.
5. The club is ideal for families as there are activities for all the ages and sailing abilities
For additional information on membership go to our Members Page.