Windsurfing Overview
The Club has a sheltered bay that is ideal for learning to windsurf in a safe environment on tidal waters. We have an active, enthusiastic group of windsurfing members, of all abilities, who are very willing to assist you with training and advice to get you started if you are new to windsurfing. If you want to know more then please contact us.
We have a large grassy area for rigging next to the sea wall and it is easy to launch either from the jetty or saltings.
Some members have long boards and often organise trips out of the creek and around Osea Island.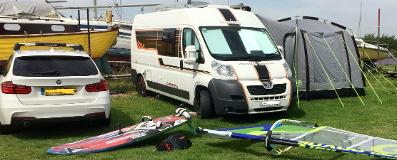 We have great Club grounds for camping with access to electric hook-up, toilets and hot showers.
There is plenty of secure storage facilities for windsurfing gear if you prefer to store your equipment at the Club.