Paddling Overview
Every year the number of kayakers and SUPpers (stand-up paddle-boarders) on our creek seems to increase, both with our own members and visitors.
The sheltered bay makes a great, safe place to go and explore from the Club and you don't need to go very far. Cross directly from our jetty and explore the saltings, which at close to high tide are like a maze. The saltings are also a good place for picking the samphire to go with your fish supper! Further out the creek on the opposite shore are our resident seals. They will allow you to approach to about 15 metres and usually a couple of seals will slip into the water and pop their heads up to keep an eye on you. Continue paddling to the end of the creek and there is a sandy spit where you can pull up and have a rest.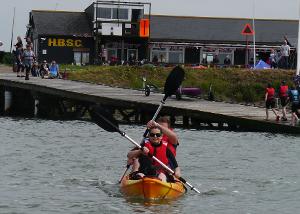 Opposite the spit is another creek (Mayland Creek) to explore with the remains of Pigeon Dock where Thames sailing barges used to collect their loads of hay to take up to London.
If you are feeling adventurous you can paddle out of the creek and around Osea Island or it is even possible, on a single tide, to paddle to Maldon for an ice-cream and back.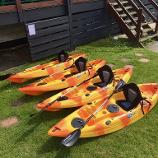 What else..?
The Club has plenty of secure storage facilities for kayaks and stand up paddle boards.
The Club also has 1 double and 11 single sit-on kayaks for the use of members.
We also have great Club grounds for camping with access to electric hook-up, toilets and hot showers.
If you want to know more then please contact us.